Overline text
Image with text
Combine imagery with text to create stand-out campaign sections, eye-catching promotions, information blocks and more.
WAVY HAIR

Ranging from soft waves to S-shaped
waves that start from the roots and mix with ringlets. Wavy hair tend to lose curl definition more easily than other textures and they need lightweight products to moisturise and hold.

LOW POROSITY
Your hair cuticles are tightly packed together, so they struggle to absorb water and your hair takes a long time to dry. Products tend to sit on top of your hair, causing buildup. Use heat when applying your deep conditioner to open up your cuticles for better absorption. You should prioritise emollients over proteins and stick to lightweight, liquid-based products.
LOW DENSITY
Also known as thin hair, low density means your strands are not so tightly packed together and your scalp is visible. Use smaller quantities of lightweight products to avoid weighing your curls down and reducing their volume.

FINE
These strands can be weak and easily damaged, so they need handling with care. Avoid over-brushing your hair and keep heat and chemical styling to a minimum to reduce the risk of breakage. Use lightweight styling products to avoid weighing your curls down.

YOUR STEP BY STEP GUIDE TO HOLY CURLS 
Now that you know all about your porosity, density, diameter and pattern, it's time to find the perfect products + personal routine to make your curl dream come true.
STEP 1 - SHAMPOO
Water is your best friend. so make sure that your hair is thoroughly wet before applying the shampoo. 1. Apply shampoo to the roots and massage your scalp properly. 2. Rinse hair and repeat steps 1 and 2 if needed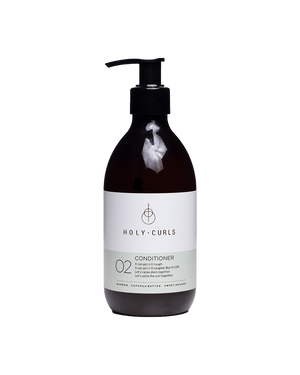 STEP 2 - CONDITION
The 02 Conditioner is perfect for fine, wavy hair as it will nourish your curls without being too heavy. 1. Apply to the mid lengths to ends of the hair 2. Slowly finger detangle. As you detangle, drizzle water over the curls and smooth and stroke the surface of your hair. This will help push the product in and smooth the cuticle. 3. Low porosity hair has a harder time absorbing moisture, so use a heat cap or hooded dryer to help your hair absorb the ingredients into the hair shaft. This will make your waves softer and healthier. Leave in for about 15 minutes. 4. Rinse
Add a title
Explain a set of product features, add illustrations,
Add a title
Explain a set of product features, add illustrations,
Add a title
Explain a set of product features, add illustrations,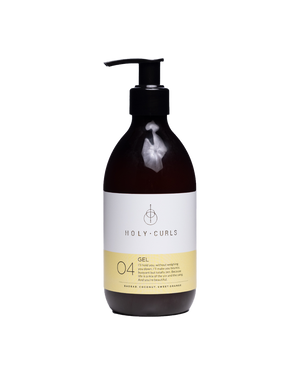 STEP 3 - STYLE
For best result, styling products should be applied in the shower while your hair is dripping wet. 1. Apply the 04 Gel - a small amount at a time - all the way over your palms then stroke into your curls from roots to ends. 2. Keep applying until you feel your hair rejecting more product. 3. Use a t-shirt to squeeze the end of the curls up into the roots to squeeze the water out. (Be gentle here as you don't want to break your curls up.) Then, add some more product over the surface of the hair. 4. Air dry or use a diffuser. If using a diffuser, do it with your head upside down. Do not scrunch your curls as it will break them up or make them lose their natural shape. 5. Once your hair is all dry, place your fingers in at the roots and shake, gently massaging the rest of the hair to remove the cast.
Add a title
Explain a set of product features, add illustrations, infographics
Add a title
Explain a set of product features, add illustrations, infographics
Add a title
Explain a set of product features, add illustrations, infographics