THE FRO CREAM
Subscribe to get 15% off & FREE shipping
The Fro Cream is THE game changing styling product for coily hair types. With a unique combination of active ingredients, it provides ultimate moisture, hydration, definition and flexible hold for afro textured hair that lasts without needing to layer with other products or sealing oils.
Love it - or your money back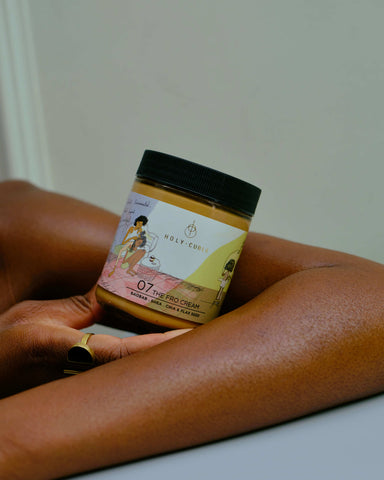 WHAT'S INSIDE ME?


Wavemax®
Wavemax is rich in chia and flaxseed polysaccharides. It is an  active ingredient that adheres to the hair fibre, forming a flexible and resistant film – providing long lasting moisture and definition.
XYLISHINE™
A hair moisturiser and repairing active that reinforces the deep moisturization of the hair fiber and enhances the shine of coily and curly hair types. This new ally for damaged hair is derived from natural sugars mainly from wood and from the brown algae, Pelvetia canaliculata.
Baobab Oil
Packed full of fatty acids and vital vitamins, including all three omegas, this wonder oil absorbs quickly into the hair to nourish, moisturise and soften.
Castor Oil
Increases shine and hair shaft flexibility by coating the hair haft.
Cocoa Butter
Seals moisture into the hair strands and forms a protective barrier.
HOW TO USE ME? 
Apply on DRIPPING wet hair in small sections (moisture is key). 

Use your pretty fingers to rake & smooth from roots to ends. 
Re-wet sections if they start to dry. Perfect for twist/braid outs & wash and go
902309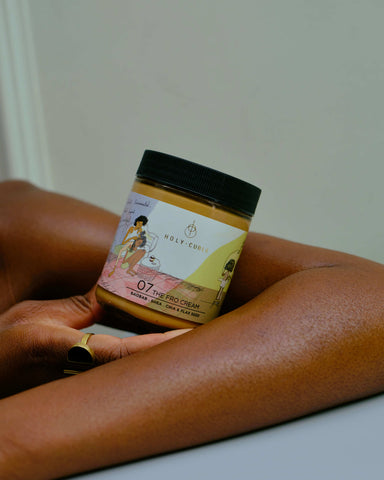 WE'RE ALL ABOUT THE RESULTS
SHOP THE ROUTINE
Adore this
My 4c curls have never been happier. And my cupboard has never been more spacious because after using this for a few weeks, I've been able to empty out all the additional extraneous oils and leave-ins and so on. This on its own is absolutely perfect.
Speechless - An Amazing Product!!!!
I used the Afro cream on my Type 4 hair on washday to do my usual twist out… and I was left speechless! The curls were so well defined, bouncy and shiny! The scent, the slip and the consistency were great. And as a busy mum, it saved me some time because I normally use 2 products (a leave in conditioner & an oil) BUT with this Afro cream, I didn't need to use anything else. Just an oil for the take down of the twist out the next day.
I'm so pleased, would happily recommend! <3